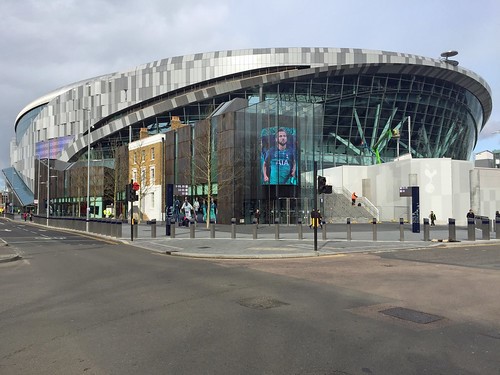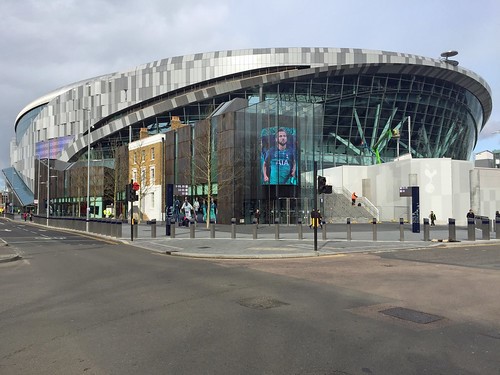 "Tottenham Hotspur Stadium" (CC BY-NC-ND 2.0) by diamond geezer
Another long and difficult season is about to come to a close with Tottenham Hotspur having to sort a number of issues this summer. First and foremost, the club have to appoint a new manager with the aim of lifting the side after two poor campaigns by its recent high standards.
The new man at the helm will then have to convince Spurs' biggest players, most notably Harry Kane, that their immediate futures lie at the new White Hart Lane.
New signings will be targeted but this is surely the time for that 'painful rebuild' to begin. It's time to cast off the driftwood and let go some of the fringe members of this big squad.
Targets
Tottenham fans had become accustomed to playing Champions League football but the elite division has been off the table for the last two seasons. There is some doubt whether the Europa League will even provide a consolation prize for 2021/22 and the first target for the new manager has to be to take Spurs back into Europe.
Many of the best betting sites as listed by sbo.net will have Tottenham among the outside bets to finish inside the Top Four. The Europa League will be a more realistic target with Spurs among the favourites for this particular trophy.
As next season progresses, sbo.net will adjust the odds for both of those markets via their trusted sources. News and transfer rumour may also have an effect and the website will report on any relevant information. Finally, anyone looking to take things further can access a suite of sportsbooks, many of which list welcome offers and promotions.
It's all to play for in 2021/22 but who won't be coming along for the ride?
Erik Lamela
Tottenham signed Lamela from Roma in 2013 and there are rumours that the Argentinian is set to return to Rome where he would rejoin former Spurs boss Jose Mourinho. It's been another difficult season with injury and loss of form but Mourinho seemed to favour the midfielder whenever he was fit.
Lamela has been a frustrating figure for much of his eight years in a Spurs shirt. There have been moments of pure brilliance and supporters will never forget his two 'Rabona' goals in particular. However, the Argentine international has simply been too inconsistent and maybe it's time that he sought another challenge.
Eric Dier
It's hard to believe that Eric Dier was the reported target of a £50 million bid from Manchester United just a few seasons ago. He's endured a frustrating campaign and looked far from his best throughout 2020/21.
He's undoubtedly versatile but, on occasions, the ability to play in defence or midfield means that a player never ties down one specific position. Dier is another alleged target for Mourinho at Roma while other English clubs will also be linked.
Harry Winks
A player who divides opinion among supporters, Harry Winks is another player who has been on the fringes of the starting XI this season. As a home grown midfielder who made it through the ranks of the junior system, Spurs may be keen to retain his services but reports claim that Winks wants to move in search of regular football.
He's made just 12 appearances in the Premier League so far this season and, as someone who's in and around the full international squad, it's easy to see why Winks is eager to switch. The player has previously expressed a desire to play in Spain and it's believed that Valencia are big fans.
Lucas Moura
Brazilian international Lucas Moura gave Spurs their most memorable moment of the Mauricio Pochettino era. His hat trick in the Champions League semi final will never be forgotten and supporters will always be grateful for that night in Amsterdam.
Two years on and Moura is another player who hasn't been quite so effective this season. There have been moments where he's shown why Tottenham were so keen to pursue his signature but the Brazilian has also lacked consistency and doesn't seem to perform against the big clubs. Many will be sorry to see him go but, realistically, Lucas Moura's time as a Spurs player appears to be up.